My dentist told me I should get a nightguard because I clench my teeth in my sleep. I love that I was able to order one online for such a great price! The impression process scared me but was actually really easy. The guard fits me perfectly and is comfortable to wear.
Jack T.
Nightguard

These are great. Perfect fit, quick turnaround time and wayyyyy cheaper than the dentists office. I've been using them for a few months now and they're so comfortable with just enough room for the bleach.
Cheyenne C.
Whitening Trays

My partial denture fits perfectly! I'm so happy to have my smile back. I work with people, so its important to have something that makes my teeth look healthy. The shade matched perfectly and the process was easy and smooth.
Angie M.
Partial Denture

OMG, I just received my bridge today in the mail and I can't believe what a wonderful job your company did from start to finish. It fits perfectly and the color is a spot on match. Great customer service and a great product. Any time in the future I or anyone I know requires devices like this you can be assured I will be ordering from you. Thanks again!
David W.
Partial Denture

Excellent experience! I have had my flipper for about 2 years and I have had no issues with it. The mold is easy to use but it is a little bothersome. But it doesn't take long to make. Shipping both times was extremely fast and I had it within just a few days. The color matches perfectly and rhe fit was very good. I saved so much money doing it myself and this is a quality product. I've recommended this company to others and will ise again when the need arises.
THANK YOU!
DM
Partial Flipper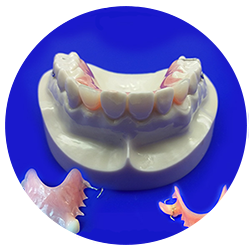 My Hawley Retainer fits perfectly and is doing a great job keeping my teeth STRAIGHT!
Viktor C.
Hawley Retainer
They look great! I'm excited to try them..And get my smile back!
Leatha W.
Partial Flipper