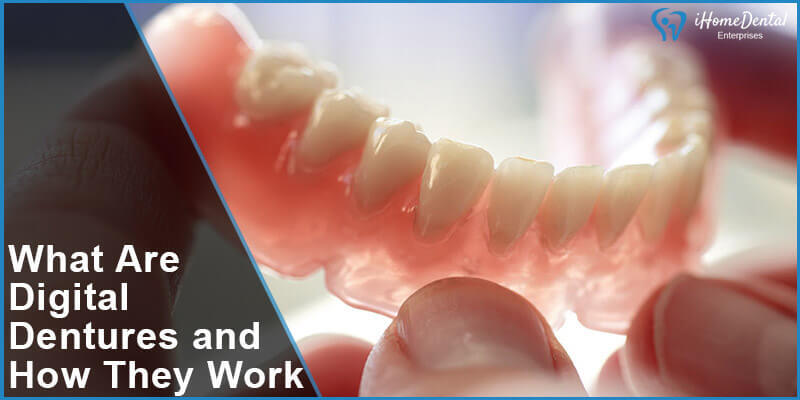 Looking after our teeth is one of the top priorities in our daily practice. However, there are numerous methods of enhancing your smile. However, if one or more teeth are missing, it lacks confidence in your personality, either eating, talking, or smiling. Dentures are the best option when it comes to replacing your lost teeth.
Dentures have been found since the beginning of dentistry. Thus, these dentures have been modified with time according to the innovation of technology. Digital Dentures are the latest way of technology while replacing the tooth which you may have lost.
Typically, in digital dentures, the term digital refers to the workflow, which is intricate in constructing CAD or CAM refined full dentures. These dentures deliver an improved apt to your mouth with enduring comfort and flexibility. Consequently, digital dentures are considered better than traditional dentures.
Digital Dentures vs. Traditional Dentures
Digital dentures work the purposes as traditional dentures. Only the distinction between the two is the manufacturing process. You may find the traditional dentures slightly awkward and messy. Besides, you need to put a tray of clay before inserting it into your mouth to fit it perfectly.
With customized digital dentures, you can effortlessly get your dentures molded accordingly since these dentures are engineered with the perfection that does not require further trays to shape them repeatedly.
How Are Digital Dentures Made?
Digital Dentures are the state-of-the-art concept that has knocked out the market.
Digital dentures are manufactured with the help of some pioneering technologies, software, and recommended material by dentists. Digital denture technology precisely takes the impressions of your inner mouth in a vertical dimension. These areas include your teeth and gums, which are scanned digitally with the help of a 3D scanner in the laboratories. However, in some cases, your teeth are thinly coated with the composed titanium dioxide powder for an in-depth scan of bites and arches.
Afterward, the information gathered from the digital scan is conveyed to the design software. This software aids in creating digital dentures by abstracting the most precise shape of the arch and size of your tooth. Once your dentures have been customized, the expert would further tweak and endeavor dentures for constriction and tooth postures to rely on them with traditional denture materials.
The innovative digital process is a much quicker process that makes it super easy for patients and dentists.
Advantages of Digital Dentures
Digital dentures are considered to be better, improved, and more comfortable than traditional dentures. Other than this, these dentures provide various considerable benefits which may convince you to adopt digital dentures rather than traditional ones.
Digital dentures are built with premium quality acrylic material which is treated under high temperature and pressure for incredible durability. Besides, digital dentures are made from a solo block of acrylic which provides more strength.
You need to visit only a couple of times to your dentist when adopting digital dentures. Your impressions would be taken at the first appointment, and a customized 3D model would be made. On a second visit, you would collect your dentures which would be ready to use.
The CAD/CAM digital technology lets dentists customize dentures with precise smile lines, bite, and spacing. This technology also guarantees an improved fixture of dentures that do not loosen, fall over, or cause any discomfort over your mouth.
Digital dentures can be found at a quite affordable price as compared to traditional dentures. It also saves your money because it does not require frequent adjustments or repairs.
Digital dentures can be manufactured instantly at any time because the design is scanned and conveyed digitally. And you would get your customized dentures within two days.
As related to traditional dentures, digital dentures save your time in the whole process from capturing impressions to fit them to your mouth; it takes only one to two weeks.
If you are also looking for digital dentures, feel free to schedule an appointment at iHome Dental for the best experience. We are always happy to answer your queries that may come to your mind regarding digital or traditional dentures.