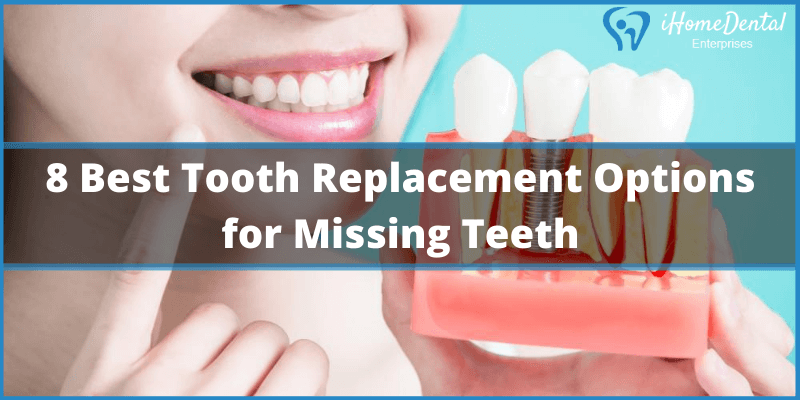 A missing tooth can remarkably change the appearance of your smile and significantly impact your confidence. Whether you have missed your tooth for any reason, it can result in several dental diseases such as injury, gum disease, further tooth decay, or an inherent issue. Whatever problem it leads; the impact is always negative. However, it is crucial to fix your teeth before it's too late.
A missing tooth not only impacts your personality and dental health, but it poorly affects your speech, chewing ability, and integrity of your jawbone, which eventually ends up in tooth shifting. Fortunately, you can execute specific replacement options for your missing teeth and get rid of gaps.
This article has brought eight excellent replacement options for your missing teeth and get your confident and bright smile back.
Dental Implants
Dental implants are designed synthetically to replace your natural tooth root and are fixed into the jawbone to aid your tooth to heal. Dental impacts support replacement crowns, dentures, or bridges and can be an ideal option for people who have lost one or more teeth due to any reason.
Pros
✅ Dental implants are more durable and permanent.
✅ Very least maintenance is required to keep your oral hygiene.
✅ You don't need to visit your dentist for regular checkups and cleaning frequently.
✅ This is the only replacement solution that stops your jawbone loss.
✅ Dental implants feel more natural and comfortable.
✅ Its success rate is up to more than 95%.
Cons
❌ A surgical professor is required to fix these implants.
❌ It is a costly replacement option than others.
❌ The treatment takes a much longer time to get normal.
❌ At the beginning of the treatment, you need to visit your dentist regularly.
The Right Time to get Dental Implants
A dental implant is the best solution if you can afford this option. This option is more reliable and durable than other options. With this treatment, you would get long-term solutions for your tooth loss. Although it is made with synthetic material, it provides you a very natural appearance. Besides, this option reserves your gum tissue and jawbone. It also prevents your teeth from grinding.
Removable Partial Dentures
A removable partial denture is tended to replace your one or more lost teeth in the same teeth frame and make them together with your original teeth. The denture comprises an acrylic foundation that is reinforced with a cobalt chrome metal framework. These dentures contain metal clips that fit over your remaining teeth and hold the denture sturdily in its place. However, you can easily remove these dentures whenever you want. On the other hand, some dentures are constructed with flexible nylon material, which has been less noticeable while wearing.
Pros
✅ Partial dentures help your speech production and improve the ability to eat and chew.
✅ This option is less expensive than dental implants.
✅ This procedure is non-surgical and rapid.
✅ You can remove your dentures whenever you need.
✅ Because they can be removed simply, you can clean them frequently.
✅ It is a very effective option in filling tooth gaps and restoring your straight smile.
Cons
❌ You may feel a bit uncomfortable or awkward.
❌ You need to remove them every night before going to sleep and keep them in water.
❌ Partial dentures are incredibly delicate which can be easily broken.
❌ You must clean these dentures regularly to avoid any oral infection.
❌ They don't look very natural while wearing them.
The Right Time for Partial Dentures
Removable partial dentures are an ideal option for those who look forward to getting effective results yet at affordable rates. You can simply get customized partial dentures to get rid of the lost tooth.
Implant-Supported Fixed Bridge
Implant-supported bridges are very similar to traditional bridges supported by dental crowns to align your teeth. You do not need to replace each tooth with a single dental implant with an implant-supported fixed bridge. However, you can restore multiple missing teeth via this option and complete the arch of your teeth.
The implant-supported bridge is very similar to the tooth-supported fixed bridges and can be fixed into one place. Now and then, your implant dentist may choose to screw the bridge on the implants to make it easier when cleaning or repairing is required. The screw holes in the bridge are concealed with a composite resin that has the same color as the tooth to make it invisible.
Pros
✅ These bridges can be maintained easily.
✅ It helps you in developing speech production and makes chewing easier.
✅ They are very durable which can go long-lastingly for several years.
✅ It provides good appealing results.
✅ As compared to replacing every single tooth, this option is very affordable.
✅ Your dentist does not need to persecute your teeth.
✅ It appears very natural and feels quite comfortable.
Cons
❌ This option is only appropriate if the missing teeth are in line with each other.
❌ You need to visit your dentist a number of times because this treatment takes much extended time.
❌ A minor surgical treatment is involved.
The Right Time for an implant-supported fixed bridge
This treatment is only suitable for you if you want to enjoy the feeling of having robust and stable teeth. Although this option is cheaper if you go for a single tooth bridge, it is still pretty expensive. Yet, once you have gone for this option, you would experience great results. Your teeth would become strong enough to enable you to chew any kind of food and enhance your speech production as well.
Resin-Bonded Bridge
A resin-bonded bridge is also known as Rochette bridge or Maryland bridge which aims to replace your front teeth only. These types of bridges are extremely fragile and cannot endure the chewing force from the back of the teeth; that's why they are specific for frontal teeth. The resin-bonded bridge comprises two wings that are fixed to the brace teeth on the surface of the tooth near the tongue.
The brace teeth should be strong and healthy, yet in rare cases, your dentist would need to change the overall shape of your brace teeth. Occasionally, they may decide to remove a small amount of tooth enamel in order to develop the link between the tooth and the bridge. A resin-bonded bridge has holes bored into its wings which aid in increasing the tooth retaining. This option is better than a removable denture, but they are not as efficient as dental implants.
Pros
✅ This treatment is cheaper than the fixed bridges supported through your natural teeth.
✅ It restores the ability of speech production and chewing ability.
✅ This treatment prevents your remaining teeth from shifting out of place.
✅ It also provides suitable space and support to your lips.
✅ The treatment is non-surgical and does not take much time.
Cons
❌  They are very delicate and cannot support back teeth; hence, they are only specific for frontal teeth.
❌  Hard food can harm and break bridges.
❌ They aren't very durable because of their delicate nature.
When do I need a Resin-Bonded Bridge?
The resin-bonded bridge is a non-surgical and budget-friendly option that is an ideal temporary fix to your lost teeth. It is a good solution for the short-term restoration of your smile and heals your underneath gums, speech production, and chewing ability.
All-on-Four Implant-Supported Dentures
If you want to support the whole frame of your teeth, then the all-on-four implant is the best option. Although your lower teeth require four implants and your upper teeth need six implants for full support. With this treatment option, you can get two implants right at the front side of your arch in the same position as possessed by your frontal teeth.
Nevertheless, the remaining implants are placed on one side at the angle of 45 degrees, slightly leaning towards the back of the mouth. The overdenture will clutch on the dental implants with the help of special appendages on the fixing surface.
Pros
✅ This dental device is very lightweight, which makes you comfortable.
✅ Eating becomes pleasing, and it provides an enhanced taste.
✅ A few implants are required in this treatment which makes it pretty reasonable in price.
✅ You can easily remove them for cleaning.
✅ As compared to dentures, this option is more sturdy and stable.
✅ You can enjoy a wide variety of food.
Cons
❌ You must keep dental care in mind while eating because food particles or hard food can damage these implants.
❌ The special appendages need to be maintained and replaced every off and on.
When to Choose All-on-Four Implant
The overdentures or all-on-four implants option is relatively affordable that lets you enjoy eating with your stable and fixed teeth. This treatment is appropriately suitable for those who are experiencing jawbone loss because the implants are fixed towards the front of the jaw and support dental implants more stably and naturally.
Dental Flippers
A flipper tooth is a temporary replacement option which is also known as temporary partial dentures. These flippers are used to reconstruct your missing teeth, and their main objective is to fill the gaps between your teeth, which might have been caused due to the lost tooth. With dental flippers, you would get your straight smile back and talk with more confidence. However, a flipper is only used for the short-term period until you go for some permanent solution.
Pros
✅ You would get this temporary treatment very affordable.
✅ As compared to other permanent options, this procedure requires a few trips by your dentist.
✅ Dental flippers are tremendously lightweight which are very comfortable to wear.
Cons
❌ This is a temporary solution that cannot be used in the long term.
❌ Although it is comfortable to wear for the short term, you may feel awkward at the end of the day.
❌ Dental flippers are very delicate which can be easily broken.
Time to consider Dental Flippers
The dental flipper is a temporary restoration solution which is an advantageous option to treat decayed teeth until you get a permanent solution.
Removable Complete Dentures
The removable complete dentures are placed on the top of your gums, and they are fixed non-surgically in a budget-friendly manner. The removable complete dentures are the best alternative to expensive dental implants. These dentures contain an acrylic base with the same color as your gums to make it invisible.
Pros
✅ The complete dentures provide support to your muscles in the lips and cheeks and restore facial dimensions to improve your whole appearance.
✅ Tit substantially improves your appearance and brings confidence in your personality by replacing your missed teeth.
✅ These dentures can be accommodated or realigned with the change of dental or jawbone shape.
✅ They look pretty natural, which perfectly fits different shapes and sizes of mouth. Also, its gum tissues match precisely to your natural gums that give a natural look.
Cons
❌ You must remove these dentures before going to sleep and soak them in freshwater when not wearing them.
❌ Regular maintenance is required to clean these dentures because they are prone to bacteria and can cause infection in your mouth.
❌ You may feel difficulty in eating certain foods while wearing these dentures, such as hard, chewy, raw, and sticky food.
❌ With the change of jawbone, it can become ill-fit which may sore your gums.
❌ It may affect your ability to chew or speak properly.
The Right Time to go for Full Removable Dentures
A complete removable denture is a suitable solution if you are looking for cost-effective replacement treatment. If you don't want to go under the needle but want a reliable replacement option, a complete denture is the best option for you.
Tooth-Supported Fixed Bridge
A tooth-supported fixed bridge is another one of the most common replacement alternatives of implant-supported reconstruction, especially when you have missed a single tooth. This treatment contains two crowns that are integrated into the teeth on one side of the gap, and these are the brace teeth.
This type of replacement treatment is permanently fixed in one place. The tooth-supported fixed bridge is made with different materials such as expensive metal alloy, porcelain, and even gold, making it pretty pricey.
Pros
✅ The treatment procedure is effortless, which usually takes two to three weeks to completely heal up.
✅ It provides a feel for your natural teeth.
✅ There is no certain risk in this treatment.
✅ You can easily maintain, brush, and floss it just like your natural teeth.
Cons
❌ It does not provide any stimulation to the bone below the bridge.
❌ If your teeth start grinding, there is a significant risk of tooth decay.
❌ This option is very expensive than other various replacement solutions.
❌ It does not typically last longer than that of an implant-supported bridge.
When to Pick Tooth-Supported Fixed Bridges?
If you are looking for a quick solution to your lost teeth, this option is the best because it takes no more than three weeks to completely heal up and make you feel comfortable without undergoing any surgery. Since everyone does not prefer surgical treatment, it may be because of their busy schedule or fear; therefore, this treatment is best for such patients for a permanent solution.
Bottom Line
There are many outstanding replacement options for missing teeth due to any reason, either due to gum disease, tooth decay, age factor or any injury. I have discussed each option in detail, along with its plus points, drawbacks and the right time to consider these options. However, professional dentists have decided on these treatments to help you restore your dental frame and deliver a bright and sparkly smile.
For more information, feel free to contact our dental experts to get the most suitable replacement option.