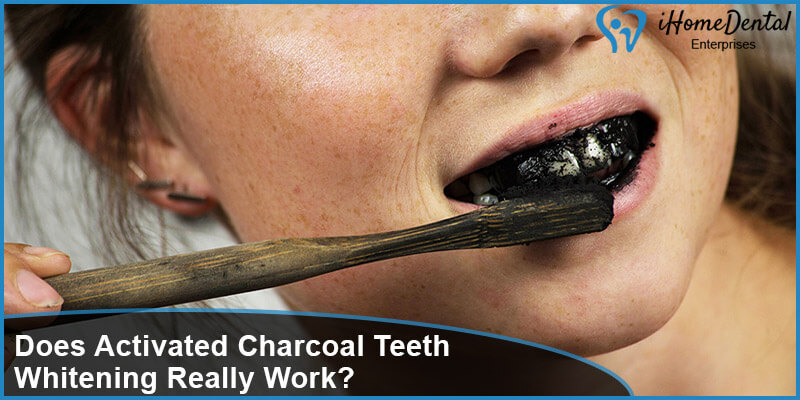 People who extremely experience yellowish teeth wonder numerous options to make them better. However, it is possible, during their searches, they might have found a unique method to whiten their teeth, i.e., activated charcoal.
Though, the activated charcoal should not be confused with the normal charcoal used for barbecue. This activated charcoal is typically used in some cosmetic products, shampoos, face washes and also comes in the form of toothpaste.
You can find multiple dental products which contain activated charcoal to remove stains, tints, and plaque from your teeth. Other than being the ingredient in products, you would also find charcoal tablets for teeth whitening to bring an improved and confident smile.
What is Activated Charcoal?
Charcoal is a fine ground black-colored powder which is made from several natural ingredients such as olive pits, coconut shells, peat, and burned wood. Then, this charcoal is activated when it is roasted under a high flame; it becomes highly spongy and absorbent.
Activated Charcoal and Teeth Whitening
Charcoal has been used substantially for decades for multiple purposes, such as combating toxic poisoning or treating water. Indeed, charcoal toothpaste was firstly introduced by Romans, and it became the major component of toothpaste. Although this ingredient was not used explicitly to whiten teeth, it is used as a crucial beneficial element in toothpaste. However, people discovered its several advantages with time, and teeth whitening was one of them.
How to Use Charcoal in Teeth Whitening?
It seems strange to use black charcoal on teeth for whitening purposes; it had got much attention from people when it became popular all across the internet world. But many people are still unaware of how to use charcoal for teeth whitening purposes. Below are the stepwise instructions to use it perfectly.
You can simply brush your teeth with activated charcoal by following the guidelines:
♦ Get activated charcoal which is safe and specific to brush your teeth to whiten them.
♦ Adopt a particular toothbrush that you would only use for charcoal brushing.
♦ Take the charcoal powder into a bowl and make a thick paste by adding a few drops of water.
♦ Now, put this paste on your brush and start brushing your teeth for a few minutes.
♦ Spit the charcoal and rinse your mouth as regular.
♦ Repeat the process occasionally.
If you execute this process more often, the black charcoal may set to your mouth, and it makes your teeth worse to look your smile black and unattractive.
What do Dentists say about Activated Charcoal for Teeth Whitening?
Many dentists have approved activated charcoal for teeth whitening purposes and have expressed several benefits of using this component. Besides, many pieces of research have verified some long-term effects of activated charcoal for dental purposes, such as:
■ It recovers bad breath.
■ It aids you in removing stains and tints from your teeth.
■ It also helps in preventing your teeth from further stains if you use charcoal toothpaste occasionally.
Final Verdict
Using activated charcoal to whiten teeth is an effective and natural means of getting rid of the yellowness, bad breath, and other stains from your teeth. It also helps in eliminating or diminishing some stubborn stains from your teeth. Nevertheless, you need to be quite careful while using charcoal because the process could be pretty messy. Anyhow, before beginning any practice with your teeth, talk to your dentist for better recommendations.