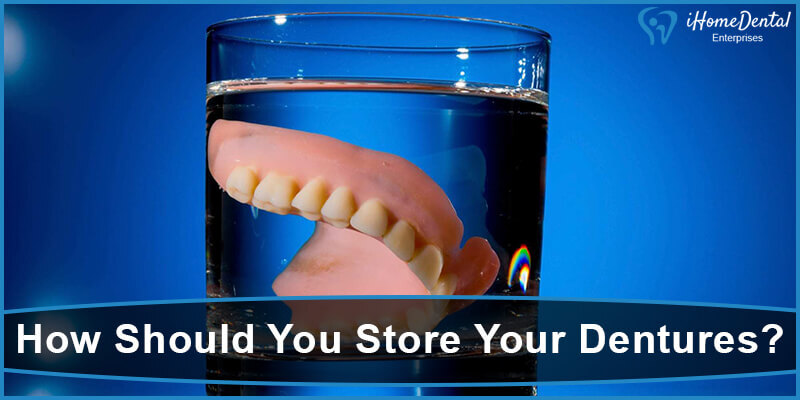 Dentures are one of the most precious items for the person who is dealing with the problem of a damaged or missing tooth. Besides, these dentures need specific maintenance and care. If a person fails to maintain dentures, it can lead to several other problems such as bad breath, gum disease, fungal or bacterial infections.
However, if you carry spare dentures set and you are in quest of some ways to store your dentures, then this article is for you only. Not only spare dentures, but your current dentures also need equal care and upkeep to let them perform durably.
Provide Moisture to Dentures
Since most dentures are made of acrylic so they are more likely to dry out. If you provide moisture to your dentures, it would keep your dentures prevented from drying out. Keeping dentures humid is crucial because if it dries, it would lose its intended shape and may not fix your mouth. consequently, you may feel awkward and discomfort while wearing them.
Keep Dentures in Water
When you're not wearing dentures, keep them in water. However, if you assume that water may decay your dentures, then you're mistaken. The acrylic material tends to absorb water and prevent it from drying out. However, you must take care of using lukewarm water.
Do not sink your dentures in hot or boiling water. It may let your dentures de-shaped.
Avoid Leaving Dentures in Open-Air
Despite the denture type you use, you must not leave your dentures in open-air even for a little time. Because these dentures always need moisture to sustain their shape. However, for this purpose, you can take a glass of clean water and soak your dentures in it until you wear them. This is the most common way to store dentures as long as required.
Another efficient way to store dentures is to keep them in a damp cloth within a plastic bag.
Benefits of Placing Dentures into Water
Placing dentures into the water not only helps in storing them, but it provides several benefits for your dentures. Water not only works to soak dentures and to prevent them from drying out, but it has numerous other advantages as well.
Cleans Dentures
Other than moisturizing, when you dip your dentures into the water, it cleans them regularly. To keep your dentures durable and germ-free, cleaning them repeatedly is crucial. Dentures are more likely to give rise to bacteria that may cause some infection or bacterial disease to your mouth, so soaking them in clean water keeps the bacteria away from your dentures and prevent them from developing. Soaking dentures in clean water daily for a few hours is the best way to keep them clean.
Protects Dentures from Damage
If you leave your denture in the open air or out of the water, there is a great risk of drying them out and ultimately damage. Whereas, if you place your dentures into the water, then they would sustain their shape and are less likely to damage. Besides, I have seen many people who keep their dentures anywhere out of the water and forget where they kept them. if you keep your dentures in one place in a glass of water, you would instantly find and wear them.
Verdict
Keeping your dentures in water has never been injurious instead it delivers loads of benefits and keeps your dentures in their original shape and healthy. Anyhow, I hope the content has been helpful for you. Make sure to visit your dentist for regular inspections of your dentures to keep your gums and teeth vigorous.