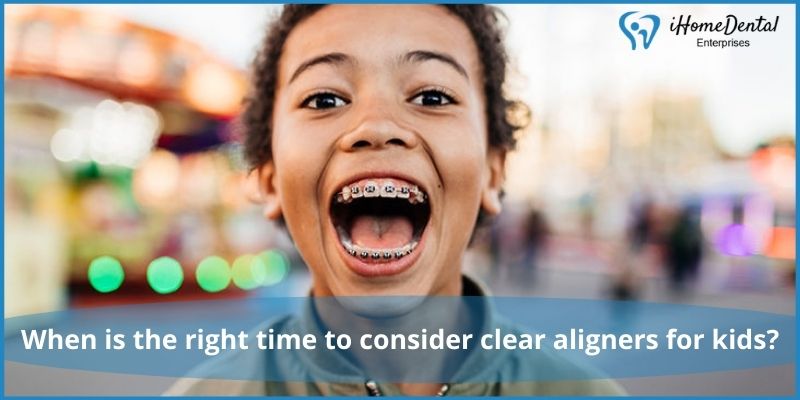 If your child has misaligned teeth, it means they need aligners or braces to straighten them. However, some kids are born with crooked teeth, so I have heard many parents ask at what age their children should get clear aligners. If you are one of those muddled parents, who are anticipating getting braces for their kids, then this article is a must-read for you. Typically, this question not only arrives when it comes to getting braces for children but to execute any orthodontic treatment needs a suitable age.
Having straight teeth brings a lot of confidence to your personality. Wearing traditional braces is an excellent option for adults to align their teeth. But what could be done to children with crooked teeth? However, an ideal age to align a child's teeth is when all milk teeth have been lost, and the kid starts erupting adult teeth. Since teeth move naturally during this stage and teeth are very flexible to attain any position thus, they can be easily aligned.
Nevertheless, most children start losing their baby teeth at the age of approximately 5 to 6. But this is just the starting age; it takes time to lose a complete set of teeth. It means these babies can have their entire adult teeth at the age of 13 to 14, and they can now begin to wear braces or clear aligners.
Remember, these ages are just the estimations because every kid has a different dental structure, so you need to examine when your child has fully erupted his adult teeth.
Clear Aligners or Traditional Braces: Which One to Choose?
Generally, orthodontics is concerned with children, which should serve a vital role in every child to straighten their teeth. Notwithstanding, when it comes to the alignment of teeth of adults, many adults experience orthodontic treatment to get a permanent solution. However, because of the critical and sensitive tooth development in children, wearing conventional braces or clear aligners are the option. But which one is worth choosing.
Amongst the two, clear aligners can be found at a comparatively lower price than conventional braces. On one side, if you find traditional braces at $3,000 to $8,000, on the other hand, you would get clear aligners only at probably $1,200. However, the lower price doesn't provide a significant benefit to your child's teeth. Also, if the product is expensive, it doesn't mean that it would definitely deliver outstanding service.
Conventional braces comprise brackets and wires, which are basically made with metals. Since these wires are fragile and delicate, they can get easily broken, due to which your child may have to visit frequently to your dentists for upgrades. On the other hand, clear aligners do not feature such metalwork, which makes them super flexible and unstressed.
Moreover, many children do not like a line of wire on their teeth, and they become uncomfortable. However, they choose clear aligners for their teeth alignment because they are transparent and are not visible while smiling or talking.
Which One to Pick?
When your kid has gone through his first orthodontic treatment, many dental experts advise them to wear clear aligners every day for 20 to 22 hours. However, with time, when the treatment develops, they can reduce this time to 8 to 10 hours each night only. Aligners prevent your teeth from dispositioning and sustain their alignment excellently.
How Clear Aligners Work?
Clear aligners are removable aligners that are transparent in color. You can customize clear aligners to get accurate fit and modified aligning treatment. Generally, patients wear clear aligners for two weeks before getting their new aligners.
A clear aligner works by applying pressure to the significant teeth. Through this pressure, it helps in forcing teeth to come closer and eliminate all teeth gaps. Eventually, you get a straight aligned and space-free smile.
Final Verdict
If your child has got crooked teeth, and you want to get clear braces for your child, feel free to visit IHome Dental to get high-quality braces or clear aligners. We always try to deliver first-class product to our customers to get their teeth. However, the clear aligners vary from 4 to 6 months, so you must take care of changing them on time.